Our Sustainable Business Strategy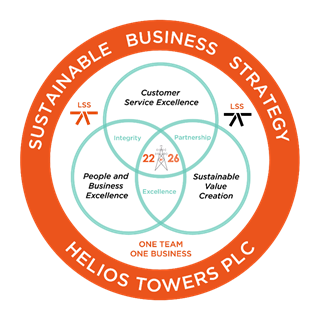 Strong governance and ethics underpin the way we work and are the foundation of our Sustainable Business Strategy
Our strategy helps us to maximise the positive impact we create for our stakeholders and deliver on our purpose of driving the growth of mobile communications in Africa and the Middle East. Strong governance and ethical practices underpin the way we conduct business.
As an enabler of connectivity, our work uniquely contributes to all 17 SDGs. Through our Sustainable Business Strategy, we support a number of SDGs and make the greatest positive contribution to SDGs 8 and 9.
Our KPIs and targets
What we want to achieve
KPI
2022
Future(1)
Customer service excellence
Reliable mobile coverage
Downtime per tower per week
2:46
< 30 seconds
People & Business Excellence
Developing talent
% Staff Lean Six Sigma trained
42%
70%
Gender diversity
% Female staff
28%
30%
Local teams for local business
% Local staff
96%
95-100%
Sustainable value creation
Enabling connectivity
Total sites
13.5k
22k by 2026
Climate action
Carbon emissions per tenant
12.17 tCO2e
2030 target: 46% reduction per tenant
Connecting the unconnected
Rural sites
5.5k sites
c.7k sites
(1) Unless otherwise stated, reflects our 2026 target.

Tackling the digital divide and connecting the unconnected
Enabling faster expansion of mobile coverage
Through expanding our tower infrastructure within and across markets, we are helping our MNO customers to increase and improve coverage in some of the world's most remote regions. We have a target to grow our business to 22,000 towers by 2026.
We believe that this will result in 250 million people under the coverage footprint of our towers, compared to 141 million today, providing more people across the region with an improved, more reliable mobile network service.
To support MNOs and governments wanting to provide universal access and expand into rural areas, we provide more sustainable solutions that are more appropriate for rural coverage, particularly in off-grid areas.
Driving digital inclusion and socioeconomic development through our community engagement
In addition to providing access to a mobile network, we want to help our communities use mobile and mobile internet, with a specific focus on supporting women and rural communities. Our engagement focuses on:
Education, skills and digital inclusion: over half of the population in Sub-Saharan Africa are not connected to mobile despite having coverage; with lack of digital literacy being a key barrier.

Access to power and amenities: less than half of the population in Sub-Saharan Africa has access to electricity and so have challenges charging their phones.

Climate and carbon: of the 10 countries that are most vulnerable to climate change, seven are in Africa. Encouraging cleaner energy across our markets and building resilience to the impacts of climate change is critical for the wellbeing of our communities.
Local, diverse, talented teams
Keeping our people and partners safe
Our approach to safety combines adherence to international safety standards with a culture of robust management and improvement. Through our safety framework, we aim to mitigate our greatest areas of risk, such as driving and working at height. Based on our 'One Team, One Business' ethos, we monitor and report on the safety and performance of our contracted partners as we do our own.
Building a diverse and inclusive business
We strive to create a diverse, inclusive and collaborative work environment in which all of our colleagues are equally supported to embody our corporate values of Integrity, Partnership and Excellence. While building a gender-diverse workforce is a challenge in our sector and in the markets that we operate in, we are committed to attracting and nurturing women in our teams. We have set a target for female representation in our workforce – 30% by 2026 and have a focus on supporting women through our community initiatives.
Find out more about our diverse, inclusive culture.
Investing in our people
To maximise the positive impact we have in our markets and to nurture local talent and skills, we focus on hiring and investing in the career progression of localised workforces in our operating markets. In 2022, we had 96% local workforce in our operating companies and we aim to maintain this at around 95–100% each year to 2026.
Lean Six Sigma is a renowned approach that helps businesses increase productivity, reduce inefficiencies, and improve the quality of output. Lean Six Sigma principles form the backbone of Business Excellence at Helios Towers. Putting in place a structured approach to problem-solving empowers colleagues in our markets to drive operational performance and improved customer service across the board.
We have set a commitment to take our workforce from 42% Lean Six Sigma trained today to 70% Lean Six Sigma trained by 2026, which will in turn drive further customer service excellence, including our target to hit 30 seconds downtime by 2026.
Climate action
While Sub-Saharan Africa is home to more than one billion people, it contributes less than 3% of total global energy-related CO2 emissions  and is a region with some of the world's lowest electrification rates – over half of the population does not have access to electricity. As many areas we serve have non-existent, limited or unreliable access to mains electricity, we rely on generators to guarantee power for our customers' equipment on most of our sites, which in turn supports reliable mobile coverage.
However, despite the power and infrastructure challenges in our markets and the acute need for mobile infrastructure there, we are committed to significantly reducing our carbon intensity as we deliver the benefits of mobile connectivity.
In 2021, we set a target to reduce carbon emissions by 46% per tenant by 2030, compared to a 2020 baseline(1). We are initially focusing on Scope 1 and 2 emissions, where we can make the most material impact. Our 2030 target translates to maintaining absolute emissions at 2020 levels, despite significant and required growth in mobile infrastructure to improve network access to millions of people.
Our long-term ambition is to become a net zero carbon emissions business by 2040. Our Carbon Reduction Roadmap details our actionable plan of activity and our Project 100: our pledge to invest US$100 million in cleaner, greener solutions to reduce carbon between 2022–2030.
(1) Our target covers Tanzania, DRC, Ghana, South Africa and Congo Brazzaville – the five markets where we were operational for the full year of 2020.
Responsible governance
Responsible governance underpins our Sustainable Business Strategy and guides how we work as well as the positive impact we create for our stakeholders. Read more on our culture of ethical business.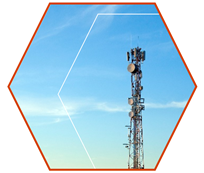 Mobile technology operates well within the safety limits set out by international guidelines. Global authorities such as the World Health Organization (WHO) and International Commission on Non-Ionizing Radiation Protection (ICNIRP) agree that there is no scientific evidence that the use of mobiles or base stations carries any risk to human health when operated within guideline safety limits.


The WHO stated in 2020:

"To date, and after much research performed, no adverse health effect has been causally linked with exposure to wireless technologies."
 
Helios Towers does not own or operate any spectrum or radio equipment. Therefore, any occupational public exposure to electric and magnetic fields through our tower infrastructure is minimal. In line with our commitment to operational excellence and further minimising any impacts, all our towers are assessed using stringent health and safety criteria. We work with government regulatory agencies as well as designated international bodies to ensure set standards are met and comply with the defined limits within the guidelines issued by ICNIRP.