With young, growing populations and strong GDP expansion forecast, Africa and the Middle East share an acute need for mobile connectivity. This means significant organic and inorganic growth opportunities for our business.
Our Africa and the Middle East markets at a glance
+42m
increase in population(1)
+63m
more mobile connections(2)
25k
new PoS requirement(2)
The demographic dividend
Across this century, population growth in Africa and the Middle East will far outstrip any other region. By 2100 the region will be the most populous globally, and its working-age population is expected to triple over the next 30 years. Accordingly, there will be huge demand for mobile infrastructure over the coming years to support this growth.
Population forecast(3)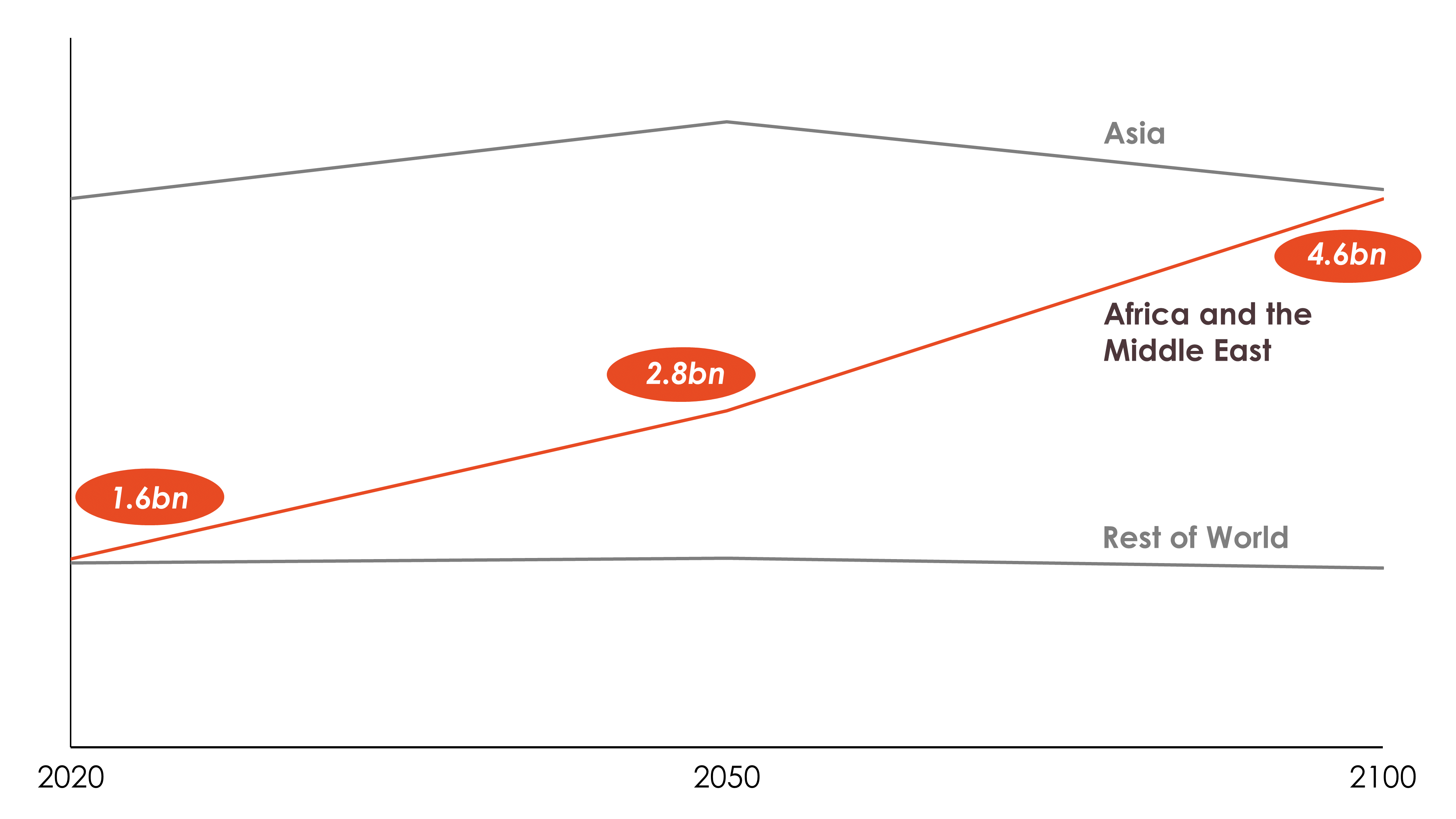 Leading positions in attractive markets
Our markets share similar growth characteristics: strong GDP growth, a young and urbanising population and increasing smartphone adoption. Combined, these factors are expected to drive an estimated requirement of 25,000 points of service ('PoS') in our markets over the next five years. Each PoS represents a potential new tenancy for our business and this organic growth opportunity exceeds the size of our portfolio today.
As the leading independent tower company in seven of our nine markets, this positions us well to support mobile operators' network expansion, through leasing-up on our existing site portfolio or developing new build-to-suit sites.
Shifting up the technology curve
Did you know that 3G connections only overtook 2G connections in 2019 across our markets? There remains significant runway across our markets for 3G, 4G and eventually, 5G mobile infrastructure.
Advancing up the technology curve is critical: there are clear linkages between 4G development and improvements in socioeconomic development.
Technology mix across our nine markets(4)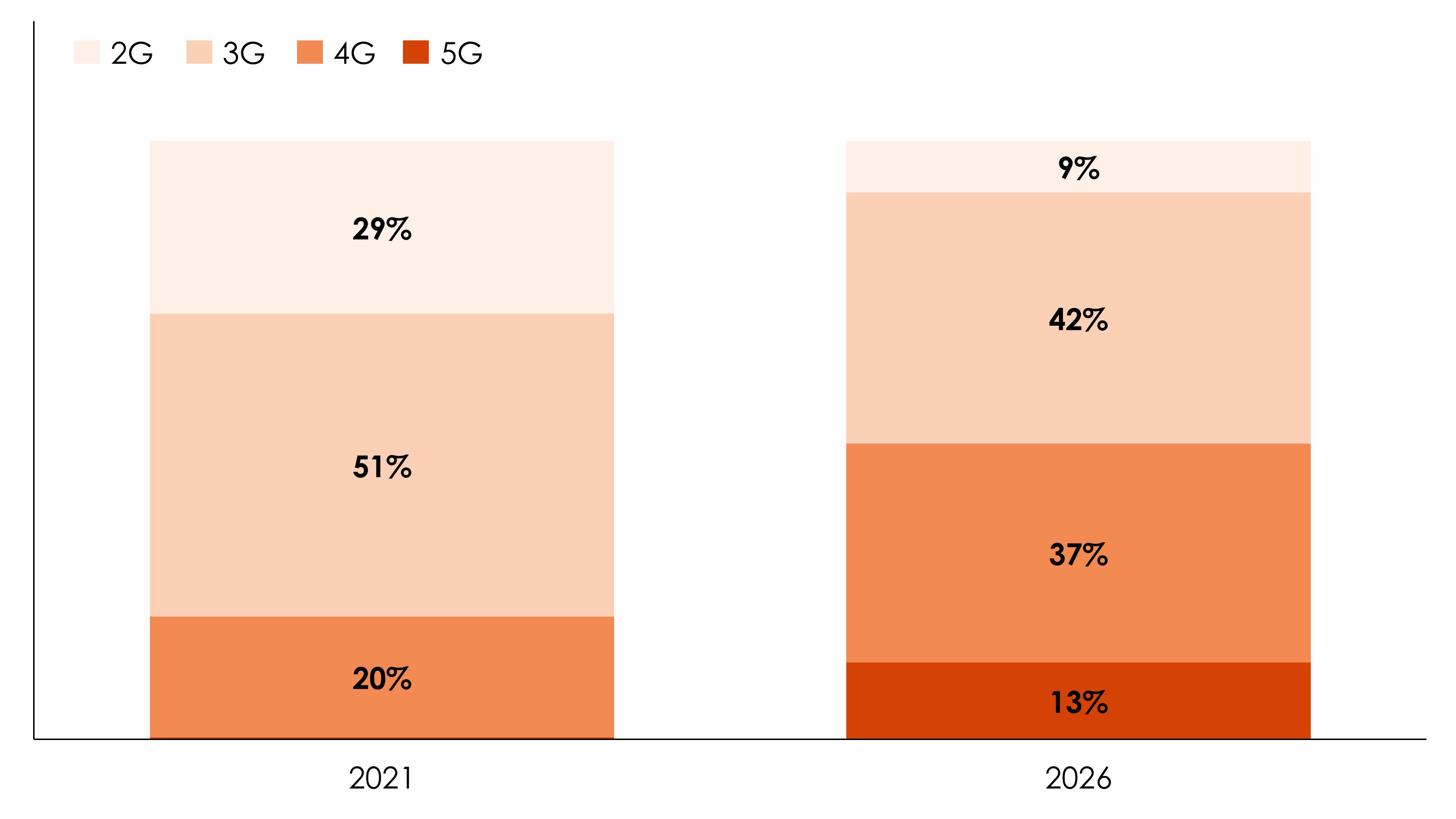 Significant inorganic opportunity
Globally, mobile operators choose to divest their passive infrastructure assets to strengthen their cash position and to support rolling out new technologies, such as 4G and 5G. Across the world, 70% of towers have now been outsourced to tower companies.
In Africa and the Middle East the picture is a little different: Over 70% of towers in the region are still held by mobile operators, equating to approximately 280,000 towers. But that is changing. 2021 saw the second highest ever level of tower divestments from mobile operators, and this trend is expected to continue over the coming years.
As mobile operators seek to drive capital and operational efficiency and divest their tower portfolios to focus on their core business, Helios Towers, with its proven operational capabilities, is a perfect partner.

(1) United Nations, World Population Prospects 2022. Refers to growth between 2021 and 2026.
(2) Analysys Mason report, February 2022. Refers to growth between 2021 and 2026.
(3) United Nations, World Population Prospects 2019.
(4) GSMA database accessed December 2022. Weighted mobile technology mix based on Q3 site count, pro forma for acquisition in Oman.