We play a pivotal role in enabling mobile connectivity and contributing to social and economic development. Our core business of tower sharing is inherently sustainable, helping MNOs roll out faster at lower cost, while reducing environmental impact.
Our purpose
Our purpose is to drive the growth of mobile communications across Africa and the Middle East.
Our mission
Our mission is to deliver exceptional customer service through our business excellence platform and create sustainable value for our people, environment, customers, communities and investors.
22x26 – the next phase of our journey
Following four acquisitions announced across 2020 and 2021, we delivered on our strategic target at IPO of entering 8+ markets and owning and operating 12,000+ towers, well ahead of plan.
Accordingly, in 2022 we launched our new strategic target – 22x26.
Our target is to own and operate 22,000 towers by 2026 which, coupled with a relentless focus on operational efficiency, will drive real impact and returns for all of our shareholders.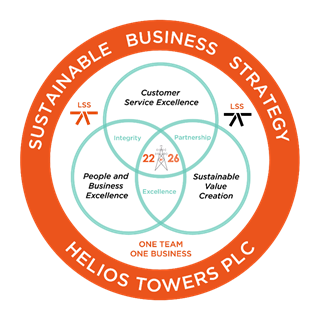 The strategy is built on three pillars: customer service excellence; people and business excellence and sustainable value creation. We have set targets against our KPIs to measure our performance.
Through these pillars, we will improve digital inclusion across Africa and the Middle East while minimising environmental impact, and developing an inclusive and talented local workforce in all of our markets of operation. Collectively, this will drive sustainable value creation for all of our stakeholders.
KPIs
Customer Service Excellence
Reliable mobile coverage: Downtime per tower per week
People and Business Excellence
Developing talent: % Staff Lean Six Sigma trained
Gender diversity: % Female staff
Local teams: % Local staff
Sustainable Value Creation
Enabling connectivity: Total sites
Climate action: Carbon emissions per tenant
Connecting the unconnected: Rural sites
Governing our sustainable business strategy
Our values underpin the importance of achieving our strategy with the highest levels of operating and governance standards. We maintain four key international standards ISO 45001, ISO 9001, ISO 14001 and ISO 37001 that validate the effectiveness of our management systems across environment, anti-corruption and bribery, health & safety and quality.
Risk management is integral to the Group's strategy and to achieving its long-term goals. The Group's continued success as an organisation depends on its ability to identify and pursue the opportunities generated by its business and the markets in which it operates. The Board has overall responsibility for risk management, compliance and internal controls, and is supported by the Audit Committee.
The Audit Committee, as delegated by the Board, monitors the nature and extent of risk exposure against the Group's risk appetite. The Committee is responsible for identifying, mitigating and managing risk, as well as setting the risk appetite for the business with advice from the Executive Team.
During bi-annual discussions with Executive Management and functional heads of department, potential emerging risks are also discussed.