Operating towers in Africa and the Middle East requires a unique and specialised skillset, due to the regions' vast geography, infrastructure and power challenges. Helios Towers has extensive experience in building and managing tower assets in complex environments.
What our customers say
"HT provides us with guaranteed power uptime in one of the most challenging parts of the African continent."

Sanjeet Kumar

Vice President, Airtel
"Since Helios Towers commenced operations in Senegal, we have experienced a continuous improvement in downtime. HTS has shown a great spirit of partnership as a key component in our customer experience strategy."

Mamadou Mbengue

CEO, Free Senegal
Our suite of services
Whether you choose to co-locate your equipment on one of our existing towers or commission a new build-to-suit site, customers will receive an on-air experience that is cost-efficient, effortless and productive, supporting network expansion and densification across their markets that share an acute need for mobile communications.

Leasing space on one of our existing towers is the most time-efficient way of getting a site on-air, and comes with a range of service advantages:


The best sites. With access to a portfolio of towers in locations chosen for optimal performance conditions, the quality and reach of your coverage is assured.
Capital preservation. The economies of colocation are compelling: you can save significant new-build capex by consolidating into one of our towers.
Speed to market. No permits needed, no environmental assessments, no design and build. It has all been done.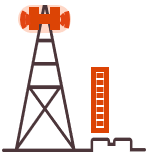 If our current portfolio doesn't meet your needs, or you need coverage in a particular location, Helios Towers will build a tower for you. At every step, the goal is to deliver the reliability and service you would expect from co-locating with us, and with the versatility that comes with infrastructure suitable for multiple customers.

We aim to build best-in-class solutions, optimised through proprietary IT systems to maximise both customer revenue and future sharing potential.

MNOs may have existing portfolios of towers in their markets, a legacy from former rollouts before a TowerCo solution was available. We can acquire these and lease back space to their former owners, while also co-locating other tenants to increase the use of the infrastructure. In fact, we are the pioneer of this sale & leaseback approach in the African mobile sector.


It presents a capital release opportunity for our customers, allowing them to refocus investment in more pressing areas of their business. At the same time we apply our expertise to optimise the towers we acquire; increasing power uptime, streamlining costs and generally adding to the benefits of the transaction.

At Helios Towers, we can also actively manage towers belonging to our customers. In a scenario where a customer may not want a sale & leaseback transaction, we can run the day-to-day operations of the site, applying our business excellence practices to improve the tower and its uptime.


We can also place other tenants onto the site, increasing utilisation and providing a mutual benefit to the tower owner and new customers.

Helios Towers provides in-building solutions for small, medium and large requirements, everything from shopping malls, offices and hotels to high-rise apartments and stadiums. Bespoke solutions ensure that we build solutions that fit to the requirements and balance technical requirements and cost.


The challenge of indoor coverage can lead to poor subscriber experience and loss of tenancies. Through deploying in-building solutions, it improves the commercial attractiveness of a building while increasing coverage for our customers.


We have a number of in-building solutions successfully deployed and managed in multiple markets across our portfolio.

With high data growth and demanding subscriber requirements, operators need to ensure that coverage and capacity are adequate, especially in dense urban environments.


Helios Towers can provide outdoor Distributed Antenna System (DAS) solutions that help address these challenges while utilising the operators' existing active infrastructure.


These solutions improve the subscriber experience for our customers, by utilising lampposts or similar smaller infrastructure to offload macro towers in traffic hotspot areas.